【Real wireless video door phone with long standby battery】

100% wireless, no more complicated lines between indoor display and outdoor bell.The bell with 5,000 mAh lithium battery ensures a long battery life.The indoor unit is equipped with a 2000 mAh battery.For more stable use, you need to connect a power supply with an indoor monitor.
【7" Touch Screen Monitor with 1080P Doorbell】

HD 1080P 7 inch TFT touch screen monitor with slim design gives you a much clearer picture than others.With the wireless connection, you can easily take them anywhere in your house.Built-in infrared sensor and 160°wide angle, easy clear image at night. IP65 Weatherproof Bell don't worry about the installation location.
【2-Way audio and one-button monitor】

When someone presses the doorbell button, you can see, hear, talk to him and even unlock for your friends, family or friends courier.It it is also very convenient for you to open the indoor unit to see what is happening outside your door at any time. Better for the safety of the elderly and children, protect your family at all times.
【Video recording and PIR motion detection】 When someone presses the bell or motion is detected, it will be recorded and stored on the microSD card (supports up to 128GB, not included). You can check the recording at any time from the monitor or smartphone.Built-in PIR sensor, you will get more accurate notifications on the monitor or phone when motion is detected.
【Tuya APP unlocking and Device Sharing】

Connect the intercom monitor with 2.4G/5G Wifi, download the free APP "TuyaSmart".When visitors press the doorbell, your phone will receive the APP notification. You can see, hear and talk to someone at your door. even remotely unlock it via your smartphone. You can also share the device with your families so that they can see who is coming and receive notifications.
TMEZON's first-ever REAL WIRELESS video door phone allows you to see, speak and authorize access to visitors even when you are not at home.
The TL-AH708 is ideal for anyone who wants to replace bulky intercom in a renovated house, or those who are moving into a spacious villa and want to ditch complicated wiring to ensure the beauty of the House
NO Cable ,NO Hard Setup!
• Innovative products----tmezon WiFi Video Doorphone Wireless, doorbell with camera wireless

• Real-wireless between indoor unit and outdoor bell, 100% wireless

• 1080P touch screen, support 2.4G/5G Wifi

• 160° Wide angel bell with night version and IP65 weatherproof

• Watch, listen, talk, unlock "TuyaSmart" APP

• Record when the bell rings or a PIR motion is detected

High-end appearance and simple installation without wiring
The surface of the outdoor unit is made of tempered glass, with a high-end design and a more qualitative feel of the product.The indoor unit can be installed on the wall or on the desk.The product is free of wiring, mobile and easier to install and use.
• Use the power adapter to charge without removing the battery

• Easily remove the battery and charge the battery separately
Two charging methods , convenient and fast.
The TL-AH708 features a 5000 mAh rechargeable lithium battery. The standbytime can reach up to 90 days with the smart power-saving functionality.
100% Wire-Free, Battery-Powered

Wireless Video Door Phone Kit with PIR Motion Detection
Please enable the motion detection function directly in the TuyaSmart app.
When a motion detector is triggered, the camera doorbell will take images or videos, and you will receive a reminder on your smartphone, even if no one presses the doorbell.
PIR intelligently detects people, reduces false reminders about vehicles, leaves and animals, improves the accuracy of security.

7-inch multifunctional touch screen
Every time the outside doorbell is rung, the indoor screen will light up automatically
• Multiple Functions

• clear Visualization Live

• Two-way Communication

• Unlocking of Gate / Door

• Video History and Storage

• Supports microSD Cards up to 128 GB
The battery of the outdoor unit is durable
Its distance may vary depending on your environment, but be aware that the walkie-talkie works in two different ways. The outdoor unit is equipped with a lithium battery and the standby time can reach 6 months. The indoor unit must be connected to an adapter for power supply.The outdoor unit can also be powered directly by DC:8~36V or AC:8~24V.
New wireless unlocking
The outdoor doorbell can be connected to the black unlocking box via a 433MHz wifi signal, you only need to power the black unlocking box .Connect the video distributor and the electronic lock, you can easily unlock it remotely with the mobile phone app

Instant Alerts for 24/7 Protection and Share with your family
Support multi-user sharing, all your family can monitor and receive notification on their phone, Share and don't miss every important moment

Featuring smart motion detection, the exterior security camera captures images and sends real-time alerts to you when a visitor is at the door.

Phone is the Key
If you forgot your key when closed your door, use your phone (tuya app)to unlock. See, hear and speak to people(like courier) as if you are home, never miss any visitor.It is convenient for elder or people with reduced mobility to open the door.
Wireless connection, can be placed anywhere
It can connect indoor and outdoor devices wirelessly and is a true wireless video intercom.
You can place the indoor monitor anywhere in your home and it is very convenient to use.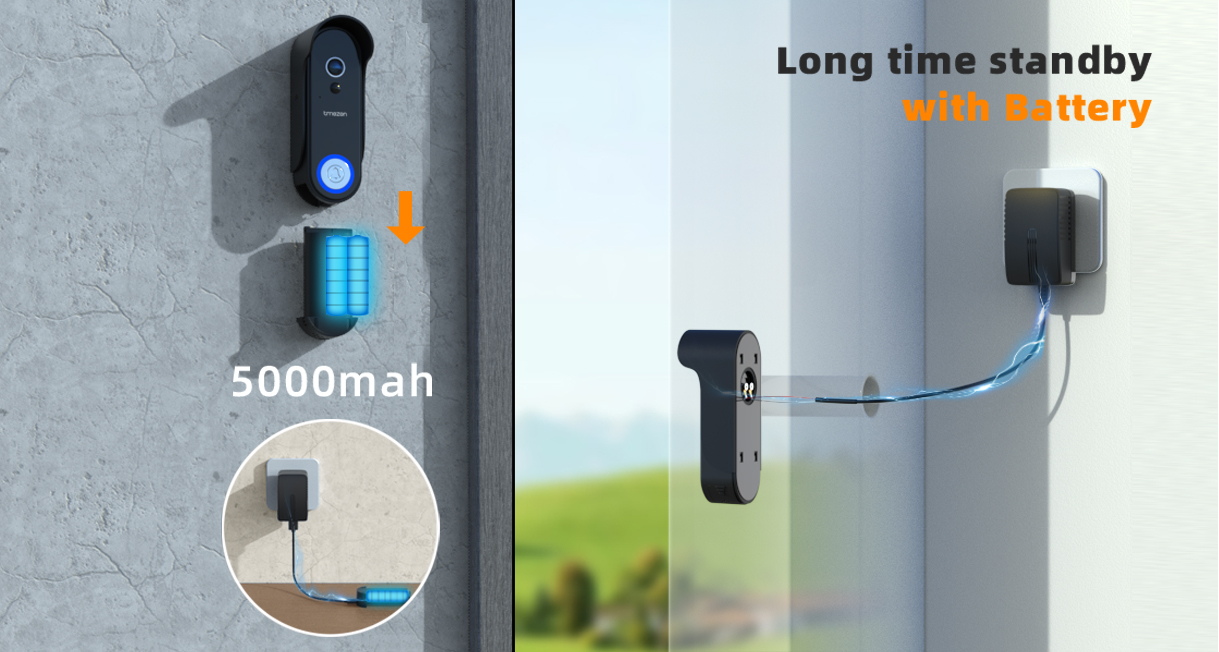 100% Wire-Free, Battery-Powered
The TL-AH708 features a 5000 mAh rechargeable lithium battery. The standbytime can reach up to 90 days with the smart power-saving functionality.
Two charging methods , convenient and fast.
Use the power adapter to charge without removing the battery

Easily remove the battery and charge the battery separately


Packing List

• 1 * 7 inch wireless touch monitor

• 1 * 1080P doorbell

• 1 * black unlocking box

• 2 * 1.2m USB Cable (with charger)

• 1 * Screws bag

• 1 * User manual